February 27, 2019
/

Press Release
Porter Wright receives "Best in Class" in Interactive Media Awards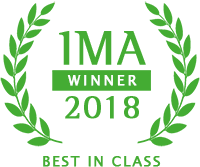 The Porter Wright website received the Best in Class Award in the "Legal" category from the Interactive Media Awards (IMA). This is the highest honor bestowed by the IMA and signifies the very best in planning, execution and overall professionalism.
Porter Wright received an overall score of 493/500. The IMA's comprehensive judging process included evaluations of design, content, feature functionality, usability and standards compliance.
Key characteristics of the website include:
Scrolling Homepage – The website's defining element is an engaging multi-panel homepage that features nine videos, edge-to-edge graphics, and both vertical and horizontal scrolling. The homepage is comprised of six vertical panels, each with a unique look and designed to communicate the firm's key messages and promote its best content.
Geo-targeted Content– The website uses geo-location technology to offer targeted content based on the user's location. When a person visits the site, the website instantly determines the visitor's geographic position, down to the zip code and serves up location-specific information. This allows each of the firm's eight offices to appear as the "main" office when viewed by someone in that region.
Dynamic Content Teasing– The website is equipped with a dynamic sidebar tool. This feature allows Porter Wright to easily create and manage sidebar content, including "suggested content" teasers that keep site visitors engaged. The suggested content can be manually curated, or the feature can be set to "automatic mode," which uses a proprietary algorithm to suggest relevant content.
Attorney and Service Microsites– The website features attorney microsites—a unique approach to lawyer bios. Attorney microsites are, essentially, small websites for each attorney that fit within the firm's larger website. Attorney microsites can be customized to the specific business development needs of each attorney and contain any number of pages or type of content.